Post by Gobblerstopper® on May 18, 2005 21:39:39 GMT -5
The season started for me in Kentucky carrying only some calls. We had two days to hunt, but rain the first day didn't make it very good.
The second morning was beautiful and when we got out of the truck a flock of birds flew out of the trees along the road. They had roosted within 60 yards of the parking area. We still managed to get my nephew on two gobbling birds. They didn't stand much of a chance with him behind the gun and myself and my friend David running the calls.....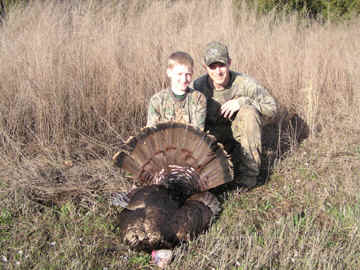 Later in the day, we managed to sneak within 70 yards of four gobblers and a couple of hens. After a little convincing, the gobblers decided that my Crystal call and the Cane Creek being ran by David were better than the hens that they all ready had. They made their way in to my 15 year old nephews SuperX2....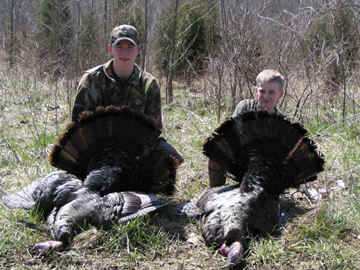 After that we had a weekend break and then on Thursday we headed to Kentucky to hunt Friday, Saturday and Sunday. The first three days of season.
After getting skunked off the roost, I met another buddy of mine and we took off after two gobbling birds. Actually we spooked a bird that gobbled to him hitting his striker on the glass when he got ready to call and then we headed to the two gobbling birds. They didn't work, but the bird we had spooked ended up gobbling again.
He flew across a pit and walked up about 15 yards from me when I finally pulled the trigger. A nice bird anywhere, but a great bird for the public land I was hunting....
Jellyhead!!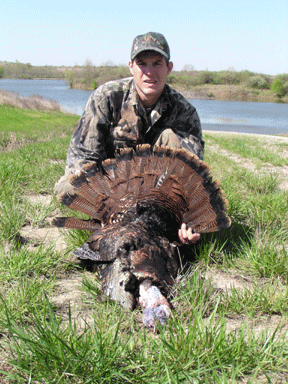 The following Wednesday, Brandon and I headed to Nebraska to hunt with Great West Outdoors on a trip that was donated to this forum and won by me. The trip was greater than ever could be expected. The first day was rainy, but we still managed to get on birds.
The second day was 28 degrees. After working a beautiful Merriam, we headed to a different spot and located a gobbler working the side of a canyon. My buddy Brandon and I were able to get out in front of him and bring him just into gun range. This was his first Merriam....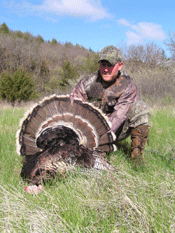 Later that day, we located a whole heard of gobblers and couldn't get in front of them. When we got back to the truck, Buck Jones is waiting on us and tells us that there is another one gobbling down the road a piece. Brandon and I took off after him and an hour or so later I had our second bird of the day on the ground....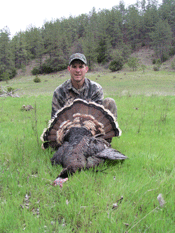 The next day we found a bird gobbling on the side of a canyon what seemed to be 10 miles away. We got to him and he Brandon and I couldn't hear him gobbling. I was calling to some jakes and when we went to move in Bucks direction we finally heard the gobbler. Buck told us that he had been answering me and was getting closer. We set up and called one or two more times before the bird came into view on the trail that led out of the canyon.....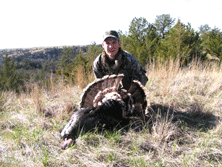 Now it was back to Indiana where season would open the following Wednesday. I hunted Kentucky a couple of more times before their season went out and finally got to Indiana the second Friday after it opened. Season didn't last long though. I got out of the truck at about 5:06 and there was a bird gobbling right in the woods from me. I set up on him and he hit the ground directly in front of me about 25 yards or so. Two steps later he was on the ground....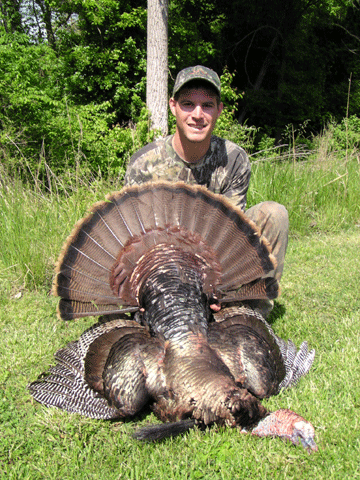 Although I took a couple of people the rest of season, we never brought any birds home. Mostly my fault though. I realized after it was too late a couple of times that I should have moved here or should have went after this bird.
Oh well, you never stop learning.